Current Hours
Open Daylight to Dark | Monday - Sunday
Serving breakfast, lunch, and daily specials!
We're a full restaurant and full service bar with top shelf liquor and micro-brews.
*Check out our banquet room that holds up to 80 people. Pull-tabs are also available!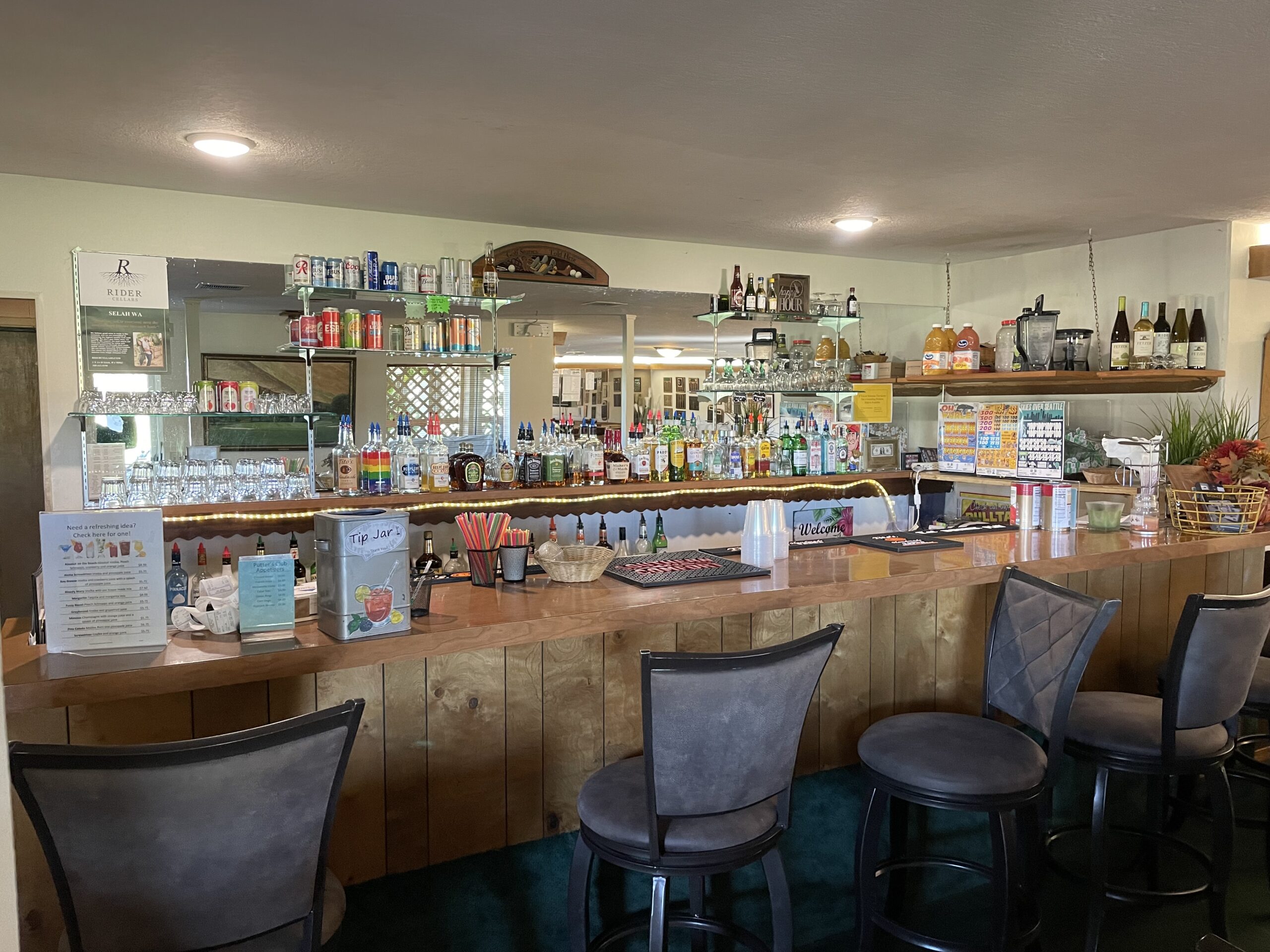 Order Ahead
Not only do we provide golf, but you can also come and get a good hearty meal.
Call ahead of time to order your food so it's nice and hot when you get here!
Breakfast until 11AM
The Big Breakfast | $12.50
Homemade shredded hashbrowns, choice of two pieces of bacon, a slice of ham, a sausage patty or two sausage links, two eggs and two pieces of toast.
The Short Putt | $8.50
On the lighter side; a small side of hasbrowns, one egg, one piece of bacon, a slice of ham or one sausage link with a slice of toast.
Biscuits and Gravy | $8 Full | $4.50 Half
Our homemade sausage gravy over two buttermilk biscuits.
50/50 Breakfast | $9
A half order of our biscuits and gravy with your choice of a piece of bacon, a slice of ham or a sausage link with an egg.
Suntides Cake | $3
Our legendary plate covering pancake, topped with butter.
Eagle Cake | $9
Our legendary pancake with your choice of two pieces of bacon, two sausage links or a slice of ham with two eggs.
French Toast | $8 Full | $6 Half
Three fluffy slices covered with a cinnamon and egg batter.
Breakfast Sandwich | $8
Your choice of bacon, ham, or sausage with an egg and American cheese on a soft brioche bun.
Burgers with Fries
Suntides Burger-Cheeseburger with Ham & Bacon | $15
Classic Cheeseburger | $11
Crispy Chicken Burger | $10
Patty Melt with Grilled Onions | $11
Pepper Jack Guac Burger | $12
Jalapeño Swiss Burger | $12
Dipping sauces: Fry Sauce, Ranch, Salsa, Ketchup, Honey Mustard, Tartar Sauce.
Sandwiches with chips
The Clubhouse | $15
Ham, bacon, turkey, cheese, lettuce, and tomato on three slices of toasted white bread.
Deli Sandwich | $8
Your choice of ham, turkey, roast beef, or tuna with lettuce, tomato, and cheese on white bread.
1/2 Deli Sandwich with Salad | $7.50
Half a deli sandwich of your choice with a side salad topped with cucumbers and tomatoes.
Sourdough Tuna Melt | $9.50
Albacore tuna and Swiss cheese on sourdough bread.
Classic BLT | $9
Bacon, lettuce, and tomato on white bread.
Grilled Cheese | $7
Add ham or turkey for an additional $2
Appetizers and Small Bites
Chicken Wings | $6
French Fries | $4
Mozzarella Sticks | $6
Tater Tots | $4
Onion Rings | $4
Mini Corn Dogs | $4
Make it a meal or share with friends!
Small Basket (Choose 3 Appetizers) | $15
Large Basket (Choose 5 Appetizers) | $26
Salads, Wraps, and More!
Classic Garden Salad | $8.50
Cheese, tomato, cucumber, and croutons on a bed of crisp lettuce.
Chef Salad | $12.50
Made with ham, turkey, tomato, cucumber, egg, and cheese.
Classic Caesar Salad | $12
Choice of crispy or grilled chicken on romaine lettuce.
Chicken Bacon Wrap | $15
Your choice of grilled or crispy chicken wrapped in a tortilla with lettuce, cheese, bacon, and tomato with ranch dressing.
Fish and Chips | $10.50
Battered cod served with our house tartar sauce.
Chicken Tenders | $12.50
Three piece chicken with fries.
Our Classic Hot Dog | $5.25
All beef hot dog just like you get at the stadium! Comes with a bag of chips.
Salad dressings: Ranch, Honey Mustard, Italian, Blue Cheese, Thousand Island
Drinks
Pepsi, Diet Pepsi, Mt. Dew, Squirt, 7up, Dr. Pepper
Large | $2
Medium | $1.75
Small | $1.50
Coffee, Tea, Cocoa, or Cider | $2