Current Hours
Open Daylight to Dark | Monday - Sunday
Serving breakfast, lunch, and daily specials!
We're a full restaurant and full service bar with top shelf liquor and micro-brews.
*Check out our banquet room that holds up to 80 people. Pull-tabs are also available!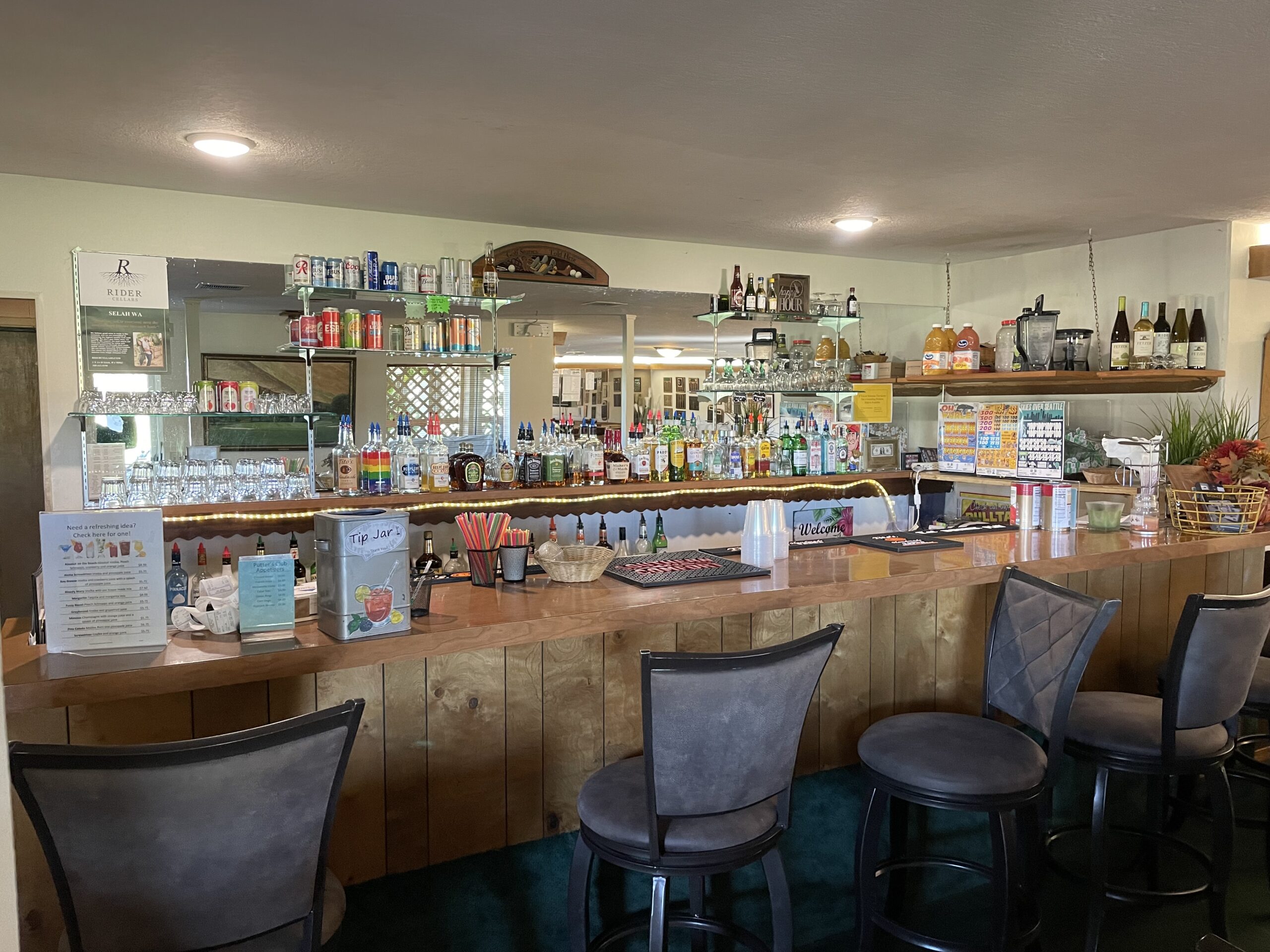 Order Ahead
Not only do we provide golf, but you can also come and get a good hearty meal.
Call ahead of time to order your food so it's nice and hot when you get here!
Breakfast until 11AM
The Big Breakfast
Homemade shredded hashbrowns, choice of two pieces of bacon, a slice of ham, a sausage patty or two sausage links, two eggs and two pieces of toast.
The Short Putt 
On the lighter side; a small side of hasbrowns, one egg, one piece of bacon, a slice of ham or one sausage link with a slice of toast.
Biscuits and Gravy
Our homemade sausage gravy over two buttermilk biscuits.
50/50 Breakfast
A half order of our biscuits and gravy with your choice of a piece of bacon, a slice of ham or a sausage link with an egg.
Suntides Cake
Our legendary plate covering pancake, topped with butter.
Eagle Cake
Our legendary pancake with your choice of two pieces of bacon, two sausage links or a slice of ham with two eggs.
French Toast
Three fluffy slices covered with a cinnamon and egg batter.
Breakfast Sandwich
Your choice of bacon, ham, or sausage with an egg and American cheese on a soft brioche bun.
Burgers with Fries
Suntides Burger-Cheeseburger with Ham & Bacon
Classic Cheeseburger
Crispy Chicken Burger
Patty Melt with Grilled Onions
Pepper Jack Guac Burger
Jalapeño Swiss Burger
Dipping sauces: Fry Sauce, Ranch, Salsa, Ketchup, Honey Mustard, Tartar Sauce.
Sandwiches with chips
The Clubhouse
Ham, bacon, turkey, cheese, lettuce, and tomato on three slices of toasted white bread.
Deli Sandwich
Your choice of ham, turkey, roast beef, or tuna with lettuce, tomato, and cheese on white bread.
1/2 Deli Sandwich with Salad
Half a deli sandwich of your choice with a side salad topped with cucumbers and tomatoes.
Sourdough Tuna Melt
Albacore tuna and Swiss cheese on sourdough bread.
Classic BLT
Bacon, lettuce, and tomato on white bread.
Grilled Cheese
Add ham or turkey for an additional $2
Appetizers and Small Bites
Chicken Wings
French Fries
Mozzarella Sticks
Tater Tots
Onion Rings
Mini Corn Dogs
Make it a meal or share with friends!
Small Basket (Choose 3 Appetizers)
Large Basket (Choose 5 Appetizers)
Salads, Wraps, and More!
Classic Garden Salad
Cheese, tomato, cucumber, and croutons on a bed of crisp lettuce.
Chef Salad
Made with ham, turkey, tomato, cucumber, egg, and cheese.
Classic Caesar Salad
Choice of crispy or grilled chicken on romaine lettuce.
Chicken Bacon Wrap
Your choice of grilled or crispy chicken wrapped in a tortilla with lettuce, cheese, bacon, and tomato with ranch dressing.
Fish and Chips
Battered cod served with our house tartar sauce.
Chicken Tenders
Three piece chicken with fries.
Our Classic Hot Dog
All beef hot dog just like you get at the stadium! Comes with a bag of chips.
Salad dressings: Ranch, Honey Mustard, Italian, Blue Cheese, Thousand Island
Drinks
Pepsi, Diet Pepsi, Mt. Dew, Squirt, 7up, Dr. Pepper
Large
Medium
Small
Coffee, Tea, Cocoa, or Cider